cheviot sheep Show Reports 2018
Royal Highland Show 2018*
(* denotes Flock of the Year counting show)
Congratulations to all exhibitors at the Royal Highland Show especially J F Irving & Son who were awarded the championship with their two-shear ram, Catslack Eagle Eye, by the judge Jim Robertson of the Becks. He made the winner of the unshorn ewe class from J Common & Son, Crossdykes, his reserve champion.
Special mention must go to the 'girls from the north' with Jan Mackenzie winning the ewe class and Tina Robertson gaining second prize in both the ewe class as well as the unshorn ewe class.
Although this was a quality show of Cheviots, there were only twenty sheep forward. The Royal Highland Show is one of the most important shop windows the breed has and it would be nice to see a larger entry. Would all members please think about helping your society and prepare to enter sheep for next year's event. I am fully aware that everybody cannot afford the time to have a week away from home but there are quality stockmen who are willing to assist on the days when you cannot be there. Please think about it seriously.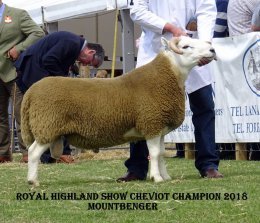 Ram two shear and over
1st & Supreme Champion - J F Irving & Son, Mountbenger
2nd - W N Douglas, Catslack
3rd - H & J Mackenzie, Langdale
4th - J Common & Son, Crossdykes
Shearling Ram
1st & Res Male Champion - J Common & Son, Crossdykes
2nd - J F Irving & Son, Mountbenger
3rd - J Common & Son, Crossdykes
4th - W N Douglas, Catslack
5th - Mrs Serena Robertson
Ewe
1st - H & J Mackenzie, Langdale
2nd - Mrs Serena Robertson
3rd - J Common & Son, Crossdykes
4th - W N Douglas, Catslack
5th - W N Douglas, Catslack
Rough Ewe
1st & Res Champion - J Common & Son, Crossdykes
2nd - Mrs Serena Robertson
3rd - W N Douglas, Catslack
Gimmer
1st & Res Female Champion - J Common & Son, Crossdykes
2nd - J F Irving & Son, Mountbenger
3rd - W N Douglas, Catslack
Border Union Show 2018*
Judge - John Paton, Castle Crawford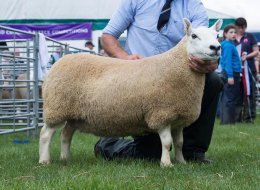 RaM over two shear
1st - W N Douglas, Catslack
2nd - W N Douglas, Catslack
3rd - T Elliot, Hindhope
4th - C M Ker, Chatto
Ram two shear
1st - W N Douglas, Catslack
2nd - T Elliot, Hindhope
3rd - W N Douglas, Catslack
4th - C M Ker, Chatto
Shearling Ram
1st - W N Douglas, Catslack
2nd - C M Ker, Chatto
3rd - W N Douglas, Catslack
4th - W J C & S J Weir, Mainside
5th - James Smith, Burrows
Ram Lamb
1st - James Smith, Burrows
2nd - W N Douglas, Catslack
3rd - T Elliot, Hindhope
4th - W J C & S J Weir, Mainside
5th - James Smith, Burrows
EWE
1st & Champion - W N Douglas, Catslack
2nd - C M Ker, Chatto
3rd - W J C & S J Weir, Mainside
4th - T Elliot, Hindhope
5th - T Elliot, Hindhope
Gimmer
1st & Reserve Champion - W N Douglas, Catslack
2nd - C M Ker, Chatto
3rd - W J C & S J Weir, Mainside
4th - C M Ker, Chatto
5th - James Smith, Burrows
Ewe lamb
1st - C M Ker, Chatto
2nd - T Elliot, Hindhope
3rd - James Smith, Burrows
4th - W J C & S J Weir, Mainside
5th - C M Ker, Chatto
Dumfries Show 2018*
Judge - Fred Little, Eskdale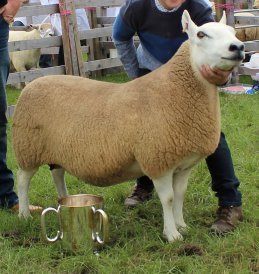 Ram over two Shear
1st - R J Menzies & Co, Chanlockfoot
2nd - R H Paton, Castle
3rd - R J Menzies & Co, Chanlockfoot
Ram two shear
1st - R J Menzies & Co, Chanlockfoot
2nd - R J Menzies & Co, Chanlockfoot
shearling ram
1st & Reserve Champion - R H Paton, Castle
2nd - James Common & Son, Crossdykes
3rd - R J Menzies & Co, Chanlockfoot
4th - R J Menzies & Co, Chanlockfoot
ram lamb
1st - James Common & Son, Crossdykes
2nd - James Common & Son, Crossdykes
3rd - R H Paton, Castle
4th - R H Paton, Castle
5th - R J Menzies & Co, Chanlockfoot
ewe
1st & Champion - James Common & Son, Crossdykes
Gimmer
1st - James Common & Son, Crossdykes
2nd - R H Paton, Castle
3rd - R J Menzies & Co, Chanlockfoot
4th - R J Menzies & Co, Chanlockfoot
Ewe Lamb
1st - R H Paton, Castle
2nd - James Common & Son, Crossdykes
3rd - James Common & Son, Crossdykes
4th - R H Paton, Castle
5th - R J Menzies & Co, Chanlockfoot
Peebles Show 2018*
Judge - Tommy Aitchison, North Shortcleugh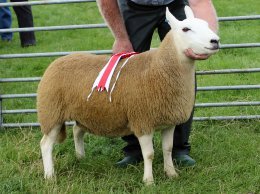 RAM TWO SHEAR AND OVER
1st & Male Champion - J F Irving & Son
2nd - B & M Cockburn, Stirkfield
3rd - W N Douglas, Catslack
4th - W N Douglas, Catslack
Shearling Ram
1st - W N Douglas, Catslack
2nd - R H Paton, Castle
3rd - B & M Cockburn, Stirkfield
4th - W N Douglas, Catslack
5th - B & M Cockburn, Stirkfield
ram LAMB
1st - J F Irving & Son
2nd - B & M Cockburn, Stirkfield
3rd - R H Paton, Castle
4th - J F Irving & Son
5th - B & M Cockburn, Stirkfield
Ewe
1st - B & M Cockburn, Stirkfield
2nd - J F Irving & Son
3rd - W N Douglas, Catslack
4th - R H Paton, Castle
5th - W N Douglas, Catslack
Gimmer
1st & Champion - B & M Cockburn, Stirkfield
2nd - J F Irving & Son
3rd - B & M Cockburn, Stirkfield
4th - W N Douglas, Catslack
5th - R H Paton, Castle
Ewe lamb
1st & Reserve Champion - R H Paton, Castle
2nd - B & M Cockburn, Stirkfield
3rd - B & M Cockburn, Stirkfield
4th - R H Paton, Castle
5th - W N Douglas, Catslack
Abington show 2018*
Judge - Gordon Jackson, Blackburn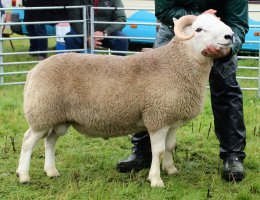 ram two shear and over
1st - B & M Cockburn, Stirkfield
2nd - B & M Cockburn, Stirkfield
3rd - T Halliday, Springwells
4th - R J Menzies & Co, Chanlockfoot
5th - R J Menzies & Co, Chanlockfoot
shearling ram
1st & Champion, Overall Sheep Champion & Reserve Champion of Champions - Linlithgow Farms, Glenochar
2nd - R H Paton, Castle
3rd - R H Paton, Castle
4th - T Halliday, Springwells
5th - B & M Cockburn, Stirkfield
ram Lamb
1st - R H Paton, Castle
2nd - Linlithgow Farms, Glenochar
3rd - Linlithgow Farms, Glenochar
4th - B & M Cockburn, Stirkfield
5th - B & M Cockburn, Stirkfield
ewe
1st & Reserve Champion - B & M Cockburn, Stirkfield
2nd - R H Paton, Castle
3rd - T Halliday, Springwells
4th - R J Menzies & Co, Chanlockfoot
gimmer
1st - B & M Cockburn, Stirkfield
2nd - T Halliday, Springwells
3rd - B & M Cockburn, Stirkfield
4th - R H Paton, Castle
5th - R H Paton, Castle
ewe lamb
1st - B & M Cockburn, Stirkfield
2nd - R H Paton, Castle
3rd - Linlithgow Farms, Glenochar
4th - T Halliday, Springwells
5th - Linlithgow Farms, Glenochar
Moffat show 2018*
Judge - Willie Nixon, Cooms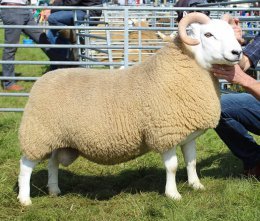 Ram two shear and over
1st - James Common & Son, Crossdykes
2nd -J Halliday, Granton
3rd - R J Menzies & Co, Chanlockfoot
4th - R H Paton, Castle
5th - R J Menzies & Co, Chanlockfoot
Shearling ram
1st, Male Champion, Supreme Champion & Reserve Sheep Champion - James Common & Son, Crossdykes
2nd - Linlithgow Farms, Glenochar
3rd - R H Paton, Castle
4th - J Halliday, Granton
5th - T Halliday, Springwells
Ram Lamb
1st & Reserve Male Champion - R H Paton, Castle
2nd - Linlithgow Farms, Glenochar
3rd - James Common & Son, Crossdykes
4th - Linlithgow Farms, Glenochar
5th - R H Paton, Castle
Ewe
1st & Female Champion - James Common & Son, Crossdykes
2nd - R H Paton, Castle
3rd - T Halliday, Springwells
4th - James Common & Son, Crossdykes
5th - J Halliday, Granton
Gimmer
1st - James Common & Son, Crossdykes
2nd - R H Paton, Castle
3rd - James Common & Son, Crossdykes
4th - T Halliday, Springwells
5th - J Halliday, Granton
ewe lamb
1st & Reserve Female Champion - R H Paton, Castle
2nd - James Common & Son, Crossdykes
3rd - Linlithgow Farms, Glenochar
4th - Kelly Blackwood, Abington
5th - R H Paton, Castle
Shepherd's Classes
1st in Gimmer Class, Shepherd's Champion & Reserve Supreme Champion - James Cochrane, Castle
holm Show 2018*
Judge - Andrew Reid, Glendearg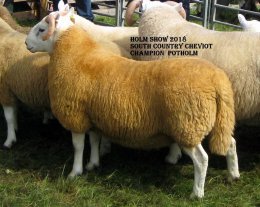 Ram two shear and over
1st - G Jackson, Blackburn
2nd - M Little, Eskdale
3rd - G Bell & Co, Bloch
4th - G Bell & Co, Bloch
Shearling ram
1st & Champion - Bridgewater & Wood, Potholm
2nd - Bridgewater & Wood, Potholm
3rd - W J C & S J Weir, Mainside
4th - G Bell & Co, Bloch
5th - G Bell & Co, Bloch
Ram Lamb
1st - M Little, Eskdale
2nd - W J C & S J Weir, Mainside
3rd - Bridgewater & Wood, Potholm
4th - Bridgewater & Wood, Potholm
Ewe
1st - W J C & S J Weir, Mainside
2nd - Bridgewater & Wood, Potholm
Gimmer
1st - W J C & S J Weir, Mainside
2nd - Bridgewater & Wood, Potholm
3rd -G Jackson, Blackburn
4th - Bridgewater & Wood, Potholm
Ewe Lamb
1st - W J C & S J Weir, Mainside
2nd - Bridgewater & Wood, Potholm
3rd - Bridgewater & Wood, Potholm
Pennymuir Show 2018*
Judge - Ian Aitchison, Winterhope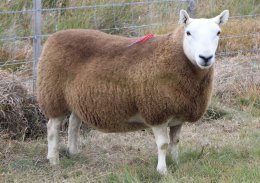 Shearling ram
1st - C M Ker, Chatto
2nd - W J C & S J Weir, Mainside
3rd - W J C & S J Weir, Mainside
4th - T Elliot, Hindhope
5th - W J Douglas & Son, Upper Hindhope
Ram Lamb
1st - W J C & S J Weir, Mainside
2nd - T Elliot, Hindhope
3rd - C M Ker, Chatto
4th - W J Douglas & Son, Upper Hindhope
5th - W J Douglas & Son, Upper Hindhope
Ewe
1st, Champion & Reserve Sheep Champion - W J C & S J Weir, Mainside
2nd - C M Ker, Chatto
3rd - W J Douglas & Son, Upper Hindhope
4th - T Elliot, Hindhope
5th - T Elliot, Hindhope
Gimmer
1st & Reserve Champion - W J Douglas & Son, Upper Hindhope
2nd - James Smith, Burrows
3rd - C M Ker, Chatto
4th - A J Scott, Philogar
5th - James Smith, Burrows
Ewe Lamb
1st - T Elliot, Hindhope
2nd - T Elliot, Hindhope
3rd - C M Ker, Chatto
4th - W J Douglas & Son, Upper Hindhope
5th - James Smith, Burrows-
Benty Show 2018
Judge - Callum Hume, Sundhope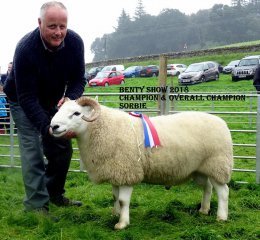 Ram two shear and over (Purchased)
1st - Lorraine Luescher, Megdale
2nd - T N Cavers & Co, Hoghill
3rd - G Bell & Co, Bloch
Ram two shear and over
1st - G Bell & Co, Bloch
2nd - Eskdale & Liddesdale Farming Ltd, Cooms
3rd - G Bell & Co, Bloch
Shearling ram
1st & Champion - T N Cavers & Co, Hoghill
2nd - Bridgewater & Wood, Potholm
3rd - Eskdale & Liddesdale Farming Ltd, Cooms
Ram Lamb
1st - Andrew Reid & Co, Glendearg
2nd - T N Cavers & Co, Hoghill
3rd - Eskdale & Liddesdale Farming Ltd, Cooms
Ewe
1st - G Bell & Co, Bloch
2nd - T N Cavers & Co, Hoghill
3rd - Bridgewater & Wood, Potholm
Gimmer
1st & Reserve Champion - Eskdale & Liddesdale Farming Ltd, Cooms
2nd - Lorraine Luescher, Megdale
3rd - T N Cavers & Co, Hoghill
Ewe Lamb
1st - T N Cavers & Co, Hoghill
2nd - Lorraine Luescher, Megdale
3rd - Andrew Reid & Co, Glendearg
Roberton Show 2018
Judge - Stuart Weir, Mainside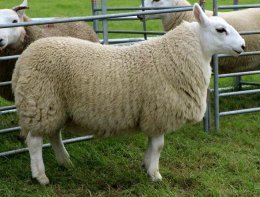 Ram two shear and over
1st & Male Champion - E Randall, Drycleuchlea
2nd - W A Fleming, Hislop
3rd - W C Anderson & Son, Easter Alemoor
Shearling ram
1st - W A Fleming, Hislop
2nd - W C Anderson & Son, Easter Alemoor
3rd - W C Anderson & Son, Easter Alemoor
Ram Lamb
1st - W C Anderson & Son, Easter Alemoor
2nd - W A Fleming, Hislop
3rd - W C Anderson & Son, Easter Alemoor
Ewe
1st - W C Anderson & Son, Easter Alemoor
2nd - W C Anderson & Son, Easter Alemoor
3rd - W A Fleming, Hislop
Gimmer
1st - W A Fleming, Hislop
2nd - W C Anderson & Son, Easter Alemoor
3rd - E Randall, Drycleuchlea
Ewe Lamb
1st & Champion - W C Anderson & Son, Easter Alemoor
2nd - W A Fleming, Hislop
3rd - E Randall, Drycleuchlea
Yarrow Show 2018
Judge - Tommy Aitchison, North Shortcleugh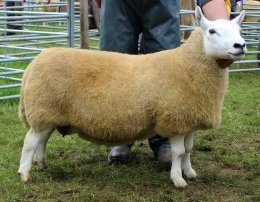 Ram three shear and over
1st - W N Douglas, Catslack
2nd - J Hume & Son, Sundhope
3rd - W N Douglas, Catslack
Ram two shear
1st & Reserve Champion - J F Irving & Son, Mountbenger
2nd - W N Douglas, Catslack
3rd - J F Irving & Son, Mountbenger
4th - W N Douglas, Catslack
5th - J Hume & Son, Sundhope
Shearling ram
1st - J F Irving & Son, Mountbenger
2nd - J Hume & Son, Sundhope
3rd - W N Douglas, Catslack
4th - W N Douglas, Catslack
5th - J Hume & Son, Sundhope
Ram Lamb
1st - J F Irving & Son, Mountbenger
2nd - W N Douglas, Catslack
3rd - W N Douglas, Catslack
4th - J F Irving & Son, Mountbenger
5th - J F Irving & Son, Mountbenger
Ewe
1st & Champion - J Hume & Son, Sundhope
2nd - W N Douglas, Catslack
3rd - J F Irving & Son, Mountbenger
4th - W N Douglas, Catslack
5th - J F Irving & Son, Mountbenger
Gimmer
1st - W N Douglas, Catslack
2nd - J Hume & Son, Sundhope
3rd - J F Irving & Son, Mountbenger
4th - W N Douglas, Catslack
5th - J F Irving & Son, Mountbenger
Ewe Lamb
1st - W N Douglas, Catslack
2nd - J Hume & Son, Sundhope
3rd - T Tennant, Gilmanscleugh
4th - J Hume & Son, Sundhope
5th - J F Irving & Son, Mountbenger
Teviothead Show 2018*
Judge - Lorraine Luescher, Megdale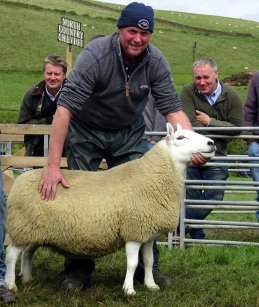 Ram Any age
1st - J F Irving & Son, Mountbenger
2nd - W A Fleming, Hislop
3rd - W A Fleming, Hislop
4th - W Douglas, Carlenrig
Shearling ram
1st - W A Fleming, Hislop
2nd - Bridgewater & Wood, Potholm
3rd - W Douglas, Carlenrig
4th - Bridgewater & Wood, Potholm
5th - W C Anderson & Son, Easter Alemoor
Ram Lamb
1st & Reserve Champion - J F Irving & Son, Mountbenger
2nd - W A Fleming, Hislop
3rd - W Douglas, Carlenrig
4th - Bridgewater & Wood, Potholm
5th - W C Anderson & Son, Easter Alemoor
Ewe
1st & Champion & Overall Sheep Champion - J F Irving & Son, Mountbenger
2nd - W C Anderson & Son, Easter Alemoor
3rd - W A Fleming, Hislop
4th - C & J Hendrie, Glebehead
5th - W C Anderson & Son, Easter Alemoor
Gimmer
1st - W A Fleming, Hislop
2nd - C & J Hendrie, Glebehead
3rd -J F Irving & Son, Mountbenger
4th - W C Anderson & Son, Easter Alemoor
5th - Bridgewater & Wood, Potholm
Ewe Lamb
1st - Bridgewater & Wood, Potholm
2nd - J F Irving & Son, Mountbenger
3rd - W C Anderson & Son, Easter Alemoor
4th - W A Fleming, Hislop
Langholm Show 2018*
Judge - Neil Hindmarsh, Rowhope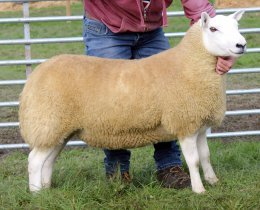 Ram two shear and over
1st - W A Fleming, Hislop
2nd - J Hume & Son, Sundhope
3rd - Eskdale & Liddesdale Farming, Cooms
4th - R H Paton, Castle
5th - J Common & Son, Crossdykes
Shearling ram
1st & Reserve Champion - J Common & Son, Crossdykes
2nd - W A Fleming, Hislop
3rd - T N Cavers & Co, Hoghill
4th - Linlithgow Farms, Glenochar
5th - Eskdale & Liddesdale Farming, Cooms
Ram Lamb
1st - Linlithgow Farms, Glenochar
2nd - W A Fleming, Hislop
3rd - Linlithgow Farms, Glenochar
4th - Eskdale & Liddesdale Farming, Cooms
5th - R H Paton, Castle
Ewe
1st - J Common & Son, Crossdykes
2nd - R H Paton, Castle
3rd - J Hume & Son, Sundhope
4th - J Hume & Son, Sundhope
5th - Bridgewater & Wood, Potholm
Gimmer
1st & Champion & Overall Sheep Champion - J Hume & Son, Sundhope
2nd - T N Cavers & Co, Hoghill
3rd - J Common & Son, Crossdykes
4th - J Hume & Son, Sundhope
5th - R H Paton, Castle
Ewe Lamb
1st - R H Paton, Castle
2nd - J Common & Son, Crossdykes
3rd - Kelly Blackwood, Elvanfoot
4th - Bridgewater & Wood, Potholm
5th - Linlithgow Farms, Glenochar