ABOUT the


CHEVIOt


shEEP SOCIETY

The South Country Cheviot is hardy and versatile offering new opportunities and multiple profitable routes to market for commercial farmers.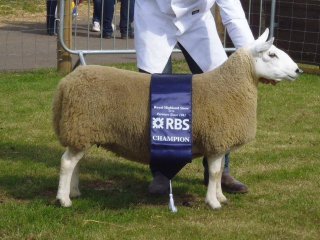 The Cheviot originated in the Cheviot Hills, on the border of England and Scotland. Recognised as a hardy sheep as early as 1372, Cheviots did well in those bleak, windswept conditions, with their strong constitution, easy lambing, and a well-developed mothering instinct. The South Country Cheviot or 'Southie' can today be found as far north as Sutherland to Dorset and Somerset in the south, with increasing numbers in Wales which are being pure-bred.
Ideal for farming today
The Cheviot ewe suits the modern ethos of hill farming today with a low input system. At the same time she will produce hardy lambs which are much sought after both as breeding sheep, as well as producing quality carcases for the meat trade. Flocks can be found grazing on the high hills which they are expected to live off throughout the year without any supplementary feed, except in extreme conditions with deep snow covering the ground.
The ewe has fine hard white hair on her face, over the crown and on her legs which should have a fine, flat quality bone. It is a very alert, active sheep, with a stylish, lively carriage. The fleece should be dense and firm with no kemp or coloured hair. The rams can have horns.
breeding quality
The main purpose of the Cheviot breed is the production of quality lamb either as a pure-bred or as a cross-bred animal. The large proportion of the draft ewes are crossed with the Bluefaced Leicester to produce the 'Cheviot Mule'. These crosses, when put to a native or continental terminal sire, produce quality butchers' lambs. Cheviot rams are used on various breeds and crosses to produce a quality carcase as well as good breeding females.
WOOL
The wool, which was once the base for the Border Tweed industry and could pay the tenants' farm rent, has now declined to be of marginal importance. But it still commands the best price, compared to other breeds, from the British Wool Board. It is chiefly used in the Harris tweed and carpet industry with a small amount being used in the craft trade.