Hill Cheviot Ram Sale


2008
Monday 6th October 2008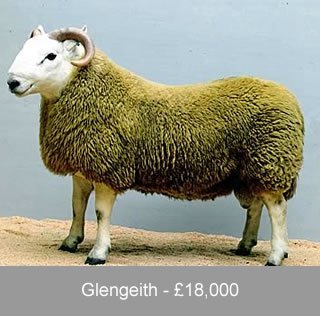 A new breed record price and an increased overall average of more than £160 on last year was the result of a buoyant trade at the annual show and sale of Cheviot Hill rams at Lockerbie on Monday 6th October 2008.
Billy Goodfellow, Glengeith, Elvanfoot, broke the record he set in 2004 at Lockerbie by £4,000 to sell a Castle Crawford Omen sired shearling ram for £18,000, which helped boost the sale's overall average for 307 sold to £784.82 compared with last year's overall average of £619.52.
His ram was one of 11 in the sale making £4,000 and above and the trade, which was particularly strong for breeders' rams, averaging £660 for 109 two shears sold (£527.52 in 2007) and £822.27 (£701.83) for the 198 one shears sold.
The £18,000 ram was out of a ewe which was half sister to the previous record holder, a Winterhope Quarry son. Ten rams from the 750-ewe Glengeith flock averaged £3,087.
Paying the leading price was Jim Robertson, Becks, Langholm, who bought Glengeith's previous record holder, X Factor. Mr Robertson first saw the sheep as a first prize winner at this year's Abington Show.
"He's got size and length – he's a terrific sheep," said Mr Robertson, who was determined to have the ram to run with a select group of ewes from his 1,000-strong flock. Later on in the catalogue, Mr Robertson got back £6,000 from Billy Goodfellow for the sale's third leading priced ram, boosting the Becks flock average to £1,145.88 for the 17 sold.
Glengeith's second leading price was £5,500 for a ram by Becks Cracker and out of a £5,000 Mainside ewe which sold to John Reid, Glendearg, Eskdalemuir, Langholm. Cracker was bought three years ago with Robert and John Paton, Castle Crawford, Elvanfoot, for £8,000.
Underbidder for the top priced ram was Norman Douglas, Catslackburn, Selkirk, Yarrow, Selkirk, whose flock average was second to Glengeith for the 14 sold early on in the sale to level at £1,814.29 from his 1,000 ewe flock.
His first prize group of three averaged £4,000, which included his leading priced shearling at £5,000, a Catslackburn Monarch son, which was sold three ways to Robert and John Paton, Castle Crawford, Elvanfoot, Billy Goodfellow, Glengeith, and Glenochar Estate, Elvanfoot.
At last year's Lockerbie sale Mr Douglas sold a half share in the Attonburn Charlie sired Monarch for £6,000 to father and son Alan and Billy Common, Crossdykes, Lockerbie. His retention of the half share was vindicated at this year's sale with two other shearlings by the tup selling for £4,000, which was out of an eight year old ewe, and £1,200.
He paid £4,500 twice - for a Catslackburn Dick sired shearling from Alan and Billy Common and for a Becks- A-One sired two shear from Sandy Fleming, Hislop, Teviothead, Hawick.
Second leading price of £10,000 went to a two shear ram sired by Castle Crawford Mascot from Alistair Warden, Skelfhill, Hawick, well exceeding the flock's previous best post 2001 of £2,500 in 2006.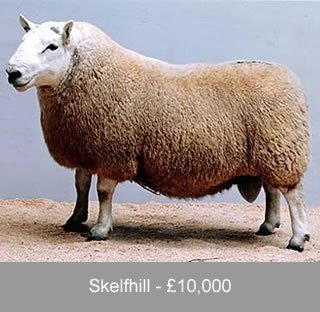 It was sold to Blair and Morag Cockburn, Stirkfield Farm, Broughton, Biggar.
Another Mascot sired two shear sold for £3,200 to Tommy Hepburn, Crosscleugh, Yarrow. Both were out of Upper Hindhope mothers bought as ewe lambs during re-stocking after foot and mouth.
Mascot, whose breeding goes back to Unthank Blackfoot, was bought as a two shear for £3,200 at Lockerbie in 2003 when he was in the winning group of three. His progeny recouped his purchase price in the first year.
Jim Robertson's one shear ram, the first to be sold by Crossdykes Captain, made £6,000 to Glengeith, £2,000 under the flock's previous best price. Captain was bought in Lockerbie in 2006 for £2,200.
Becks' shepherd Fred Little had his best day yet with his single entry from his four ewe Eskdale flock - a two shear by Becks' stock ram and previous record holder Glengeith X Factor, which made £5,000 to Stirkfield Farms and Upper Hindhope.
The ram, out of a ewe sired by Upper Hindhope President, was chosen as the pre-sale show's overall champion by the judge Henry Laurie, shepherd for Castle Crawford.
Mr Laurie's reserve champion went to an Attonburn Charlie sired champion shearling from Norman Douglas which sold for £3,000 to John Reid, Glendearg, Eskdalemuir, Langholm.
One of the sale's largest consignments under the hammer from Crossdykes also sold to £5,500 to level at £833.75 for 24.
The 860-ewe flock's leader was by the £250 Winterhope Topper out of a home-bred ewe which sold jointly to Jimmy and George Irving, Mount Benger and Norman Douglas, Catslackburn, Selkirk, whose £4,500 leading bid was for another shearling by the £1,000 Catslackburn Dick.
Leading flock averages:
Glengeith (10) to £18,000 (£3,087)
Catslackburn (14) to £5,000 (average £1,814.29)
Skelfhill (12) to £10,000 (£1,612.50)
Hislop (9) to £4,500 (£1,394.44)
Crosscleugh (5) to £3,800 (£1,284)
Becks (17) to £6,000 (£1,145.88)
Springwell (3) to £1,900 (£1,016.67)
Castle Crawford (15) to £3,200 (£914)
Singlie (10) to £2000 (£868)
Crossdykes (24) to £5,500 (£833.75)
Stirkfield (15) to £3,000 (£723.33)
Cowburn (9) to £4,200 (£650)
Bloch (15) to £1,800 (£604.67)
Granton (6) to £1,100 (£571.67)
Cossarshill (9) to £1,600 (£558.89)
Mount Benger (9) to £1,500 (£515.67)
Glenochar (7) to £800 (£512.86)
M Little, shepherd (1) £5,000 (£5,000)
K Duncan, shepherd (1) £550 (£550)
Averages:
Two shear: 109 sold, £660 (£527.52 in 2007)
One shear: 198 sold, £822.27 (£701.83)
Overall: 307 sold, £784.82 (£619.52)
---