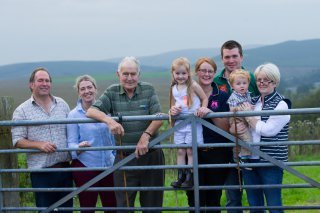 Farming in the hills of the Scottish Border certainly has it's challenges thanks to higher rainfall and tougher winters in the last decade or so, but it's the South Country Cheviot that has prevailed at the Bloch for the Bell family.
Despite having to reduce numbers in order to cope with the wetter climate, the hardy nature of the breed combined with improvements in recent years has meant the family has still made the most of the 2,000 acres of admittedly wet, rushy ground just a few miles from Langholm.
It is here that grand-father George, who not long ago turned 87, arrived with his family back in 1941 to take the tenancy with Buccleuch Estates. Now the farm is run by Ian and son Ross, added of course by Ian's wife Fiona, daughter Sarah and Ross' partner Fiona, with the pair also bringing the next generation in Poppy, four, and 17 month old James.
There was already a well-established flock of South Country Cheviots at Bloch when the family arrived all those decades ago, but for the Bells there is no other breed in contention. "The Southie produces a good type of lamb with better conformation that is easier kept," started Ross. "And as the ewes aren't as big as some other natives, you get a better lamb off a smaller sheep in rougher conditions," Ian added. "The breed has improved over the years as the sheep now have more stretch and better conformation to meet today's market requirements, with improved wool quality too - not that you get much for it these days." In fact, this improved wool quality helped George and Ian win the British Wool Producer of the Year title back in 1998.
Working with a closed flock of 1,100 ewes, of which 150 are crossed to a Texel or Bluefaced Leicester in order to produce a lamb for quick finishing, it is bought-in rams together with home-bred sons that have helped improve the standard of the Bloch flock over the years. These include the £4,000 Castle Olympic bought at Lockerbie that has been a very good female getter and left a really good stamp, while the Glenochar Echo tup bought for just £450 has sired sons to £2,200, including one sold to Ogilivie Jackson at Cossarshill.
"We run three cuts of sheep in groups of 60 or 70 that we'll put a new tup to. If we like what he's breeding then we'll give him more the next year and look at selling or retaining sons," Ross explained, adding that that sons of bought-in tups are usually used as shearlings before being sold on as two-shears.
Perhaps one of the most influential tups was Castle Presence, bought for just £600 when he stood champion at Lockerbie. "Presence has certainly lived up to his name as he was used throughout the flock and really left his mark - you can see his sheep through and through," added Ian.
Presence went on to sire one of the big sellers for the Bells, Bloch Gareth, that sold to the Wardens at Skelfhill for £6,000 in 2010 to match the £6,000 received for Bloch Anchor in 2003 when he stood champion before selling to Jim Robertson, Becks. Anchor has since bred sons to £5,000, proving that Bloch genetics work as well away from home as they do on the farm.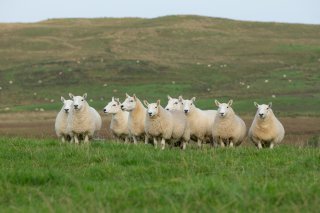 But whether selling or retaining sheep, the attributes Ian and Ross look for never change. "They've got to have nice white hair and a good skin and shape, and the horn shouldn't be too strong as a head doesn't look right if there's too much horn," commented Ian. "While females are the working part and what we're looking to breed for, we like selling good tups and a good wedder lamb too."
While tup and ewe lambs selling both through the market and privately bring in some extra income, it's the sale of store and fattened lambs that bring in the majority of the farm's capital. With freshly speaned cross lambs selling in mid-September for £75 to £78 through C and D Auction Mart's Longtown centre and wedders through the collection service for prime lambs at Harrison & Hetherington's Lockerbie mart hitting £90 - bearing in mind that price was for the middle draw of the 2015 crop as the top draw has already been sold through the store ring - there can be no denying that the Cheviot lambs certainly sell well.
But for the Bells there are always improvements to be made, and earlier this year saw the trial of offering a 16% ewe roll instead of mineral blocks to tupped ewes. "It was a bit of an experiment this year but the flock scanned at 119% instead of the previously sitting around 108% to 110% so we really saw a difference it made and will try it again next year," pointed out Ross.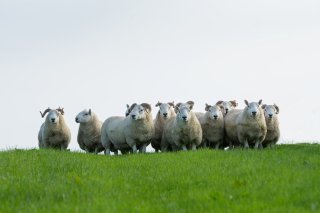 In an area that is very susceptible to liver fluke, the Bells are dosing for the parasite every three to five weeks during winter and spring to prevent losses due to immature fluke in recent years.
"There's a tick issue round here too with more rough ground and forestation meaning there's no moor fires like there used to be to help control them," said Ian. "The past couple of years we have started dipping again at speaning time due to the high levels of ticks on the hill. We're also quite copper deficient here, so we give everything, including the cattle, a bolus in the spring time."
The Bells are certainly kept busy at the Bloch, for as well as a busy sheep enterprise they also run a 100-strong herd of cattle, ten of which are pedigree Whitebred Shorthorns, which maintains a steady supply of bulls for home use and regular sales.
A further twenty Galloways are kept pure for home-bred replacements, with the remaining Galloway cows going to the Whitebred Shorthorn bull to produce Blue-Greys. The resultant heifers are sold as bullers at H & H's Newcastleton's mart traditional two-day suckler calf sale to average £1,050, with homes being found the length of Britain, from Caithness to Cornwall last year, while bullocks are sold as forward stores at Longtown;s Kirkcambeck sale, going to regular customers for finishing.
But as far as the Cheviot goes, the breed looks like it has a secure future at the Bloch.