Cheviot Ram Sale


2003
Monday 6th October 2003
Hill Cheviot Ram sells to £8,000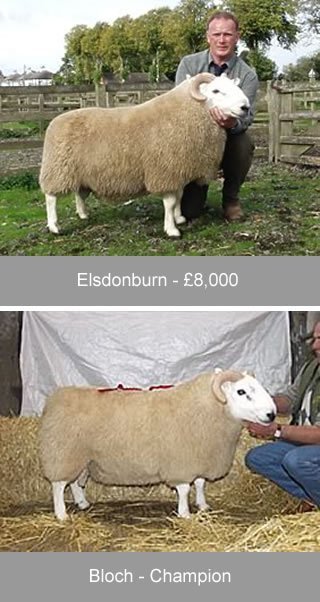 The Annual Show and Sale of Hill Cheviot Rams was held in Lockerbie Mart on Monday 6th October 2003.
Customers were in attendance from as far away as Skye to Devon while there was an increased number of Welsh buyers.
The atmosphere was electric and trade was superb were just a few of the superlatives being quoted at the sale. The 378 Rams sold averaged £775.
Topping the sale at £8,000 were Messrs EJ & AM Fox, Elsdonburn, Kirknewton, Wooler with an R1 two shear son of Unthank Ram which was purchased by Mr Jim Robertson, Becks Farm, Langholm
Messrs G Bell & Co, The Bloch, Langholm after years of dedication and selective breeding won the championship for the first time with an R1 two shear son of Becks Inspiration sold at £6000 to Mr Jim Robertson, The Becks, Langholm.
The top priced shearling was shown by Messrs CJ & JM Symons, Attonburn, by a home bred sire which sold at £5,500 to Messrs Ker, Chatto Farm.
The leading average went to Mr Jim Roberston, Becks Farm, Langholm whose consigment of 24 averaged £1646.66 including two which sold for £5000 and £1000 or more.
Leading Prices:
Shearlings:
£5,500 Attonburn £5000 (2) £4,200 £3,500 £2,500 £2,400 Becks £3,500 Elsdonburn £3500 £2,300 Catslackburn £3,500 Upper Hindhope £3,400 Granton £2,800 Single £2,800 (2) Stirkfield £2,600 (2) Castle Crawford £2,500 Townfoot.
Two Shear:
£ 8000 £4,500 £1,800 Elsdonburn £6,000 £3,200 £2000 The Bloch £5,200 £3,500 £1,400 Castle Crawford £5,200 Glengeith £2,800 Mainside £2,000 £1400 Hislop £ 2000 (2) Hindhope £1,400 Hindhope and Tushielaw