Cheviot Ram Sale


2000
Monday 2nd October 2000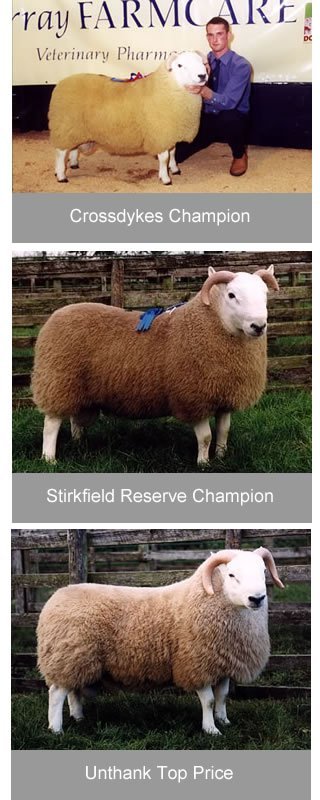 One of the highlights of the year at Lockerbie is the show and sale of Cheviot Hill Rams. Buyers from as far a field as the Isle of Skye, Ireland, Wales and Devon were in attendance.
The market was busy from early morning with the judging attracting a great deal of interest.
The judge Archie Stewart from Tushielaw awarded the Championship to a shearling ram from James Common & Sons, Crossdykes, Lockerbie. The ram by Crossdykes Trueman later sold to the judge for £2000.
It was standing room only as the sale got underway and the first sheep to be sold was the reserve champion shearling from Finlay Smith and daughter Morag, Stirkfield, Biggar. By a Murtholm Sire he sold for £4,200 in a joint purchase to Jim Robertson, Becks and Gavin Douglas, Upper Hindhope.
An excellent demand prevailed throughout the sale when no fewer that 46 made over £1,000. The 213 shearling rams averaged £471.54 while the 11161 two shears averaged £470.66. The overall average of £472.06 was down £3.46 on the year.
The top priced two shear sire sired by Catslack One O One from Jim Robertson, Becks made £4600 to Stephen Busby, from Unthank.
George Bell from Bloch Farm was well pleased with his consignment of thirteen two shears which sold to average£1,227. His top of £3,800 was for one of the prizewinning group by a Catslackburn sire purchased by John Ward, Murtholm.
Another of the prizewinners by an Upper Hindhope sire went to John Reid from Glendearg for £3,600.
As usual there was a large contingent of Welsh buyers and Tom Havard from Sennybridge paid £3,100 for one sired by Kale Magican shown by Ted Fox, Elsdonburn, Wooler.
Another two shear by Kale Aristocrat from Sandy Fleming, Hislop was purchased by John Halliday from Cowburn for £3,100.
Other leading prices for two shears were as follows £2,300 Becks, £2,200 Upper Hindhope and Castle Crawford, £2,000 Bloch and Upper Hindhope.
The top priced shearling by Castle Hero came from Stephen Busby, Unthank, he went in a joint purchase to Billy Goodfellow, Glengeith and John and Robert Paton, Castle Crawford at £4,500.
The first of fifteen shearlings from Messrs Irving, Mount Benger by Catslack Bengerburn sold for £3000 to Messrs Common, Crossdykes.
Murtholm and Catslackburn both sold shearlings for £2,700 with £2,600 Attonburn, £2,400 Stirkfield, £2,200 Attonburn and Castle Crawford.
The Hope family from Winterhope were selling at Lockerbie for the last time with the farm having been sold and their excellent quality pen sold to £2,200 and £2,100 for shearlings.
The leading flock average of £1,270 went to Unthank with £1,226 Bloch £1,176 Elsdonburn and £1,064 Stirkfield.
The prize list was as follows:
Group of three
1st Crossdykes 2nd Bloch
Two Shear
1st Upper Hindhope 2nd Bloch
Shearling
1st and Champion Crossdykes
2nd and Reserve Champion Stirkfield