Hill Cheviot Ram Sale


2007
Monday 29th October 2007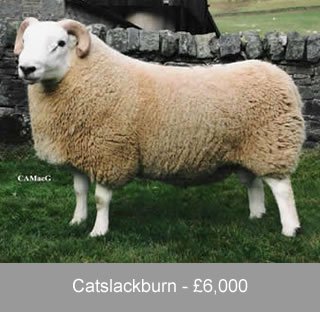 With the sale being a month later than usual, the Hill Cheviot Ram sale took place at Lockerbie with a great interest in quality sheep.
The number of rams sold was slightly down on the year, once again a good turnout of Welsh purchasers helped to put a bottom in the trade.
The Overall average for the year was down £15.20 on the year at £619.07.
The top for the day was four bids of £6,000, one for a half share in a shearling ram from Catslackburn with the bid coming from Allan and Billy Common, Crossdykes. The ram is by Attonburn Charlie and had been used as a lamb and bred very successfully so Norman and David Douglas retained a half share.
The Castle Crawford flock of Robert and John Paton sold a shearling by Cooms Leader for £6,000 to Sandy Fleming, Hislop, Teviothead.
The Common Family from Crossdykes had a very good consignment with the first going to Sandy Fleming and Billy Goodfellow for £6,000 this ram being a son of Catslack Vili.
Also at £6,000 was a ram sired by Castle Prince and it went the Paton's at Castle Crawford.
Once again the excellent pen of rams from the Becks had a good trade with two shearlings selling for £5,000 each both sired by Glengeith X Factor with one going to Robert and Alistair Warden Skelfhill and the second joining John Reid's flock at Glendearg.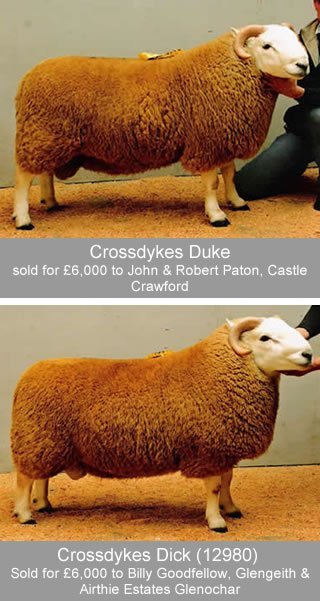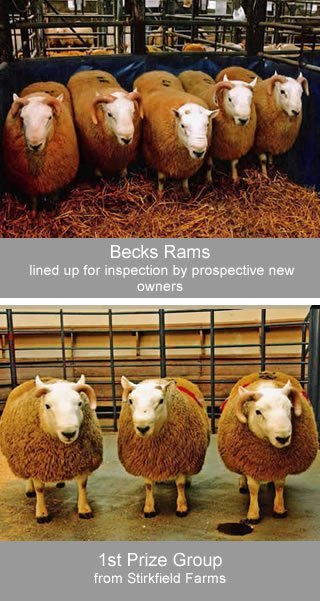 The reserve Champion from Glendearg sold for £4,500 to Jim Robertson, Becks.
The overall Champion of the day came from Morag and Blair Cockburn Stirkfield Farms and it sold for £4,000 to J. McNeil, Glenjann, Moniaive, also from the same home Messrs Hepburn Crosscleugh bid £4,500 to obtain the ram sired by Kale Ulysses.
Jimmy and George Irving had a fine trade with a top of £3,800 for a ram sired by Glengeith Jasper and went to join the Becks flock.
Langholm Farms Cooms sold a ram for £3,800 to Morag and Blair Cockburn for Stirkfield Farms.
Cossarshill had his best trade for a good ram by a homebred sire selling for £3,200 to Stirkfield Farms.