Features


Goldfingered Goodfellow

feature by Eilidh MacPherson October 2009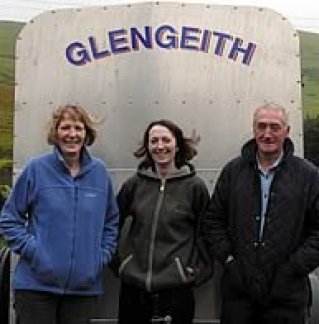 South Country Cheviot sheep breeders have only two chances left to secure 'Goodfellow' Glengeith genetics, as the current South Country Cheviot breed record holder, Billy Goodfellow, retires in November 2010.
He first broke the SCC record in 2004 with X-Factor, a cracking shearling by the £2100 Winterhope Quarry, was shared with Castle Crawford. Jim Robertson of the Becks purchased the then new record holder, out of a ewe by Bloch Chieftain for £14000.
Last year, Billy repeated the performance at Lockerbie taking ring centre with a new breed high of £18 000. Castle Crawford proved a great Omen once more as the five figure record shearling was sired by Castle Crawford Omen. The £18,000 ram was out of a ewe, which was half sister to the previous record holder. Jim Robertson, the Becks, Langholm, purchased the record holder once more.
I remembered interviewing Billy on the day of the sale and he was surprised at the price, as the tup was an R3. "We had a squad of farmers round yesterday looking at tups and not one of them asked anything about scrapie. I have mostly 1's this year and no one is interested!
Only in his early sixties, Billy has decided to retire for a number of reasons. "None of the family are keen on sheep; Geoff, our son likes cattle and that is the only reason we have cows at all," explained Billy, who managed a number of farms for Hopetoun Estate before returning to take over the tenancy of Glengeith, where his father shepherded.
Geoff's sisters – Lesley and Ashley are a surveyor and nutritionist respectively. The former works in Stirling and the latter in Hamilton.
Billy, who runs the farm single handedly, with assistance from his wife Agnes and contract shepherd Tommy Aitchison, when required, just wants to take things a bit easier.
EID is another bone of contention and one reason this hill farmer is opting out, moving to his 40-acre block at Roberton and running his Texels.
He wonders if the farm will go back into the hands of the estate as many have done across the country, in the past few years. " Landlords are afraid to let land with the tenancy laws, making it virtually impossible for young people to get in."
"When I was 58, the average age of farmers was 58, now it is bound to be older," said Billy, who feels that politicians should be doing more to reverse the trend.
"Production should revert to headage payments and young farmers should be given a Single Farm Payment."
"The Scottish Government are interested in farmers and agriculture and have been doing a good job but politicians further south are not," added Agnes, who runs a ladies hat hire business – Hatmosphere Hat Hire – as a sideline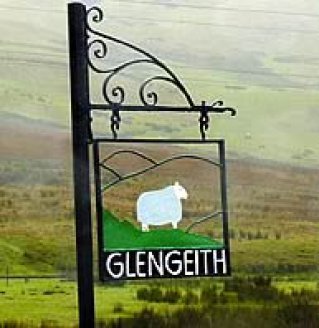 Meanwhile back on the ranch..... .which is located just off the M74 at the Thornhill turnoff, and rises from 900 feet to 1700 feet, Billy is busy preparing stock for sale.
Glengeith is a good, grassy hill property but "doesn't like a wet year," says Billy who is a traditionalist still herding up at night and down in the morning, feeds out Crystalyx buckets prior to lambing. He also uses a Bildabin for blow in feed and a snacker for feeding out to save on labour.
"The South Country Cheviot is a much better commercial product as they are bigger than they used to be, with good skins and conformation. They have lots of character to work with."
Most of the wedder lambs are sold as stores at Longtown after the tup sales are over, as there is limited grass inbye at Glengeith.
Since 2001 he has also managed a Blackface hill farm – the Lowthers – at Leadhills, which scales up to 2500 feet, on contract. Billy reckons that it was possibly the first sheep contract farming agreement in Scotland. Initially there were 500 ewes, but it was cut down to 250 for grouse shooting.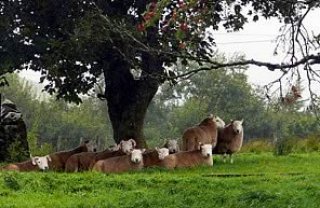 Billy bought a Beltex at Kelso this year to try over his Texel crosses at Roberton. He reckons when he eventually moves there that he'll take some SCC's to breed rams.
Not willing to tempt fate, most farmers are reluctant to admit that they may have a winner, but there is one tup the same way bred as the £18000, out of a Winterhope Quarry ewe and another out of a £5200 ewe, off Glengeith 007 – a tup sold to Attonburn. "You never know what way it will go," smiled Billy, who has judged the breed at all bar two shows in the country!
So whether Goldfingered Goodfellow has any good Omens or Simon Cowell, X-Factor rated rams up his sleeve this year is yet to be seen. From the preview I had, the Glengeith pen will certainly be a force to be reckoned with once again!