Cheviot Ram Sale


2012
Monday 1st October 2012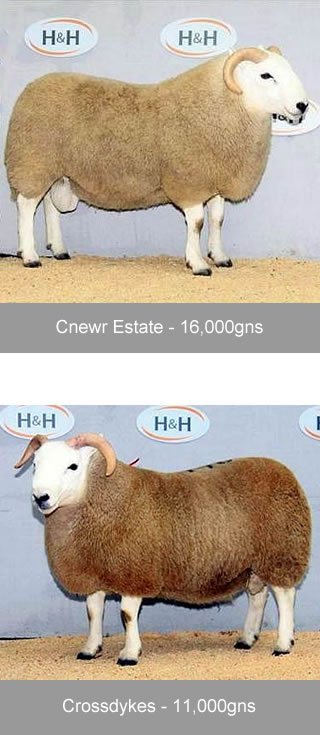 Welsh breeders secured the leading price of 16,000gns at the Cheviot ram annual show and sale held at Lockerbie on Monday 1st October. A crowded ringside of buyers gather to this noted sale and a good clearance of rams prevailed.
Heading the price table at 16,000gns was shearling ram shown by Cnewr Estate Ltd of Brecon. This was an ARR/ARR genotype entry sired by Catslack Welsh Choice and he sold to join purchasers IHG Warden of Skelfhill Farm, Hawick and WA Fleming of Hislop, Hawick.
Following at 11,000gns was shearling from local enthusiasts J Common & Son of Crossdykes, Lockerbie. At the pre-sale judging, this ram was a member of the winning group and also received the 2nd prize rosette in the shearling class. He was knocked down to a shared purchase of LW Goodfellow of Townfoot Farm, Biggar and J Robertson & Sons (Becks) & Co of Langholm.
Also from the Crossdykes pen of Messrs Common came the next leading price at 7,000gns. This was an ARR/ARR geno type ram and was also part of the winning Crossykes group. He caught the eye of Stirkfield Farms based near Biggar.
The top price entry from the Catslackburn pen of WN Douglas of Yarrow, sold for 6,000gns. This was a shearling sired by Kale Zagnar and was purchased by Messrs Common & Son for their Crossdykes flock, Lockerbie.
An early entry to the sale ring sold for 5,000gns coming from J Robertson & Sons (Becks) & Co of Langholm. This was also a shearling entry sired by Kale JR and was sold to RH Paton of Gateslack, Thornhill.
The Upper Hindhope flock produced the next to price tag at 4,500gns. Shown by WJ Douglas & Son of Jedburgh, this homebred ram Kale Botsworth a son of Mainside Merryman, was purchased by J Hepburn & Co of Crosscleugh of Selkirk.
Coming from the same Cnewr Estate pen as the top price ram was a shearling selling for 4,000gns. This was another geno type 1 ram also by Catslack Welsh Choice, and sold to WN Douglas for their Catslackburn flock based near Yarrow.
Show Results
Judge – Mr Billy Goodfellow
Best Group of Three
1st Crossdykes (No 189, 190, 192)
2nd Hislop (No 242, 243, 245
3rd Upper Hindhope (No 79, 81, 83)
Best Two Shear
1st Crossdykes (No 188)
2nd Hislop (No 245)
3rd Dudless (No 211)
Best One Shear
1st Potholm (No 312)
2nd Crossdykes (No 190)
3rd Stirkfield (No 283)
Sale Average – 301 rams £746.84 (minus £126.12)
Flock Averages
| | | | |
| --- | --- | --- | --- |
| Vendor | Top Price | No | Average |
| Wardlaw | £250 | 4 | £182.50 |
| Easter Alemoor | £2,500 | 7 | £718.57 |
| Becks | £5,000 | 22 | £958.18 |
| Cowburn | £1050 | 5 | £640 |
| Henderland | £150 | 3 | £150 |
| Cooms | £1800 | 7 | £514.29 |
| Cooms (shepherd) | £900 | 2 | £525 |
| Chanlockfoot | £420 | 4 | £267.50 |
| North Shortcleugh | £900 | 3 | £506.67 |
| Hindhope | £2800 | 10 | £662 |
| Cossarshill | £900 | 5 | £360 |
| Upper Hindhope | £4,500 | 14 | £1310.71 |
| Crosscleuch | £600 | 7 | £275.71 |
| Priesthaugh | £450 | 5 | £310 |
| Carterton | £280 | 3 | £226.67 |
| Mountbenger | £2,000 | 10 | £778 |
| Acreknowe | £200 | 2 | £175 |
| Bloch | £2,500 | 16 | £512.50 |
| Castle Crawford | £1400 | 13 | £557.69 |
| Gilmanscleuch | £480 | 9 | £297.78 |
| Granton | £600 | 5 | £390 |
| Damhead | £320 | 2 | £320 |
| Mainside | £900 | 8 | £388.75 |
| Lymiecleuch | £220 | 2 | £220 |
| Hoghill | £1,000 | 6 | £531.67 |
| Crossdykes | £11,000 | 21 | £1268.57 |
| Dudlees | £2,500 | 5 | £1006 |
| Springwells | £600 | 5 | £310 |
| Drycleuchlea | £950 | 8 | £530 |
| Adyar | £480 | 2 | £330 |
| Glengeith | £550 | 3 | £293.30 |
| Glenochar | £2,200 | 3 | £1366.66 |
| Blackburn | £220 | 4 | £205 |
| Hislop | £3,500 | 11 | £877.27 |
| Cnewr Estate | £16,000 | 6 | £3741.67 |
| Sundhope | £600 | 9 | £374.44 |
| Skelfhill | £2,600 | 9 | £642.22 |
| Unthank | £700 | 2 | £425 |
| Stirkfield | £1,800 | 14 | £544.29 |
| Catslackburn | £6,000 | 12 | £1337.50 |
| Potholm | £3,800 | 5 | £1660 |
| Tushielaw | £250 | 4 | £175 |
| Lochurd | £880 | 4 | £470 |
| | | | |
| --- | --- | --- | --- |
| Lot No | Vendor | Price | Purchaser |
| 1 | Wardlaw | 250 | Jackson, Cossarshill |
| 2 | Wardlaw | 150 | Davies, Brecon |
| 3 | Wardlaw | 150 | Evans, Brecon |
| 4 | Wardlaw | 180 | Evans, Brecon |
| 5 | Easter Alemoor | 280 | Douglas, Saughtree |
| 6 | Easter Alemoor | 2500 | Robertson, Becks |
| 7 | Easter Alemoor | 450 | Broatch & Stewart, Setthorns |
| 8 | Easter Alemoor | 700 | Stirkfield Farms |
| 9 | Easter Alemoor | 450 | Douglas, Carlenrig |
| 10 | Easter Alemoor | 300 | Temple-Morris, Gwynedd |
| 11 | Easter Alemoor | 350 | Johnson, Highchesters |
| 12 | Becks | 1800 | Douglas, Catslackburn |
| 13 | Becks | 5000 | Paton, Gateslack |
| 14 | Becks | 900 | Bell, Bloch |
| 15 | Becks | 400 | Stirkfield Farms |
| 16 | Becks | 500 | Halliday, Granton |
| 17 | Becks | 1600 | Hume, Sundhope |
| 18 | Becks | 500 | McPherson, Skye |
| 19 | Becks | 400 | Drinkall, Chorley |
| 20 | Becks | 2100 | McNeil, Glenjaan |
| 21 | Becks | 500 | McNeil, Glenjaan |
| 22 | Becks | 400 | Glenkiln Farms |
| 23 | Becks | 450 | McPherson, Skye |
| 24 | Becks | 300 | Johnson, Highchesters |
| 25 | Becks | 300 | Temple-Morris, Gwynedd |
| 26 | Becks | 400 | Temple-Morris, Gwynedd |
| 27 | Becks | 350 | Williams, Colwyn Bay |
| 28 | Becks | 2800 | Irving, Mountbenger |
| 29 | Becks | 350 | Methuen, Elliston |
| 30 | Becks | 700 | Jones, Bala |
| 31 | Becks | 550 | Dalgleish, Mid Murthat |
| 32 | Becks | 500 | Hyslop, Locherben |
| 33 | Becks | 280 | Thomson, Ramsaycleuch |
| 34 | Cowburn | 850 | Cavers, Sorbie |
| 35 | Cowburn | 650 | Elliot, Burnfoot of Ewes |
| 36 | Cowburn | 400 | Drinkall, Chorley |
| 37 | Cowburn | 250 | Williams, Colwyn Bay |
| 38 | Cowburn | 1050 | Elliot, Burnfoot of Ewes |
| 39 | Henderland | 150 | Barrie, Eldinhope |
| 40 | Henderland | 150 | Evans, Brecon |
| 41 | Henderland | 150 | Temple-Morris, Gwynedd |
| 42 | Cooms | 1800 | Hepburn, Crosscleuch |
| 43 | Cooms | 400 | Williams, Colwyn Bay |
| 45 | Cooms | 150 | Williams, Colwyn Bay |
| 46 | Cooms | 300 | Telfer, Cleuchfoot |
| 47 | Cooms | 400 | Paterson, Hopsrig |
| 48 | Cooms | 400 | Warwick, Girnwood |
| 49 | Cooms | 150 | Davies, Brecon |
| 50 | Cooms | 900 | Warwick, Girnwood |
| 51 | Cooms | 150 | Telfer, Cleuchfoot |
| 52 | Chanlockfoot | 420 | McPherson, Skye |
| 53 | Chanlockfoot | 250 | Evans, Brecon |
| 54 | Chanlockfoot | 220 | Clark, Penrith |
| 55 | Chanlockfoot | 180 | Drinkall, Chorley |
| 56 | North Shortcleugh | 900 | Cavers, Sorbie |
| 57 | North Shortcleugh | 300 | Drinkall, Chorley |
| 58 | North Shortcleugh | 320 | Williams, Colwyn Bay |
| 59 | Hindhope | 500 | Scott, Kirkland |
| 60 | Hindhope | 400 | Bernard & Dodd, West Deloraine |
| 61 | Hindhope | 2800 | Elliot, Clenries |
| 62 | Hindhope | 450 | Glenkiln Farms |
| 63 | Hindhope | 650 | McPherson, Skye |
| 64 | Hindhope | 400 | Drinkall, Chorley |
| 65 | Hindhope | 320 | Rowlands, Gwynedd |
| 66 | Hindhope | 200 | Lord, Littleborough |
| 67 | Hindhope | 420 | Evans, Brecon |
| 68 | Hindhope | 480 | Bernard & Dodd, West Deloraine |
| 70 | Cossarshill | 350 | Anderson, Priesthaugh |
| 71 | Cossarshill | 900 | Menzies, Chanlockfoot |
| 72 | Cossarshill | 200 | Weston, Nether Phawhope |
| 75 | Cossarshill | 200 | Weston, Nether Phawhope |
| 76 | Cossarshill | 150 | Watson, Binks |
| 79 | Upper Hindhope | 1400 | Irving, Mountbenger |
| 80 | Upper Hindhope | 1400 | Ballantyne, Linhope |
| 81 | Upper Hindhope | 4500 | Hepburn, Crosscleuch |
| 82 | Upper Hindhope | 1000 | Walton, Dudlees |
| 83 | Upper Hindhope | 2200 | Warden, Skelfhill |
| 84 | Upper Hindhope | 400 | Thompson, Townfoot, Penrith |
| 85 | Upper Hindhope | 350 | Williams, Colwyn Bay |
| 86 | Upper Hindhope | 220 | McPherson, Skye |
| 87 | Upper Hindhope | 2000 | Strang-Steel, Lymiecleuch |
| 88 | Upper Hindhope | 1600 | Bell, Bloch |
| 89 | Upper Hindhope | 1000 | Stewart, Tushielaw |
| 90 | Upper Hindhope | 1000 | Leuscher, Glendinning |
| 91 | Upper Hindhope | 900 | Linlithgow Farms |
| 92 | Upper Hindhope | 380 | Scott, Kirkland |
| 93 | Crosscleugh | 200 | Williams, Colwyn Bay |
| 94 | Crosscleugh | 600 | Elliot, Hindhope |
| 95 | Crosscleugh | 180 | Evans, Brecon |
| 96 | Crosscleugh | 320 | Williams, Colwyn Bay |
| 97 | Crosscleugh | 200 | Williams, Colwyn Bay |
| 98 | Crosscleugh | 280 | Drinkall, Chorley |
| 99 | Crosscleugh | 150 | Clark, Penrith |
| 101 | Priesthaugh | 450 | Hindmarsh, Rowhope |
| 102 | Priesthaugh | 220 | Evans, Brecon |
| 103 | Priesthaugh | 250 | Weir, Mainside |
| 104 | Priesthaugh | 380 | Bland & Barker, Penrith |
| 105 | Priesthaugh | 250 | Drinkall, Chorley |
| 107 | Carterton | 250 | Williams, Colwyn Bay |
| 108 | Carterton | 150 | Lord, Littleborough |
| 109 | Carterton | 280 | Drinkall, Chorley |
| 110 | Mount Benger | 500 | Tennant, Gilmanscleuch |
| 111 | Mount Benger | 650 | Davies, Dyfed |
| 112 | Mount Benger | 1000 | Tennant, Gilmanscleuch |
| 113 | Mount Benger | 2000 | Halliday, Granton |
| 114 | Mount Benger | 180 | Davies, Brecon |
| 115 | Mount Benger | 450 | Evans, Brecon |
| 116 | Mount Benger | 1500 | Leuscher, Glendinning |
| 117 | Mount Benger | 500 | Davies, Dyfed |
| 118 | Mount Benger | 500 | Thompson, Townfoot, Penrith |
| 119 | Mount Benger | 500 | Bowen, Gwent |
| 121 | Acreknowe | 150 | Hogg, Milnholm |
| 123 | Acreknowe | 200 | Evans, Brecon |
| 125 | Bloch | 500 | Reid, Glendearg |
| 126 | Bloch | 450 | Williams, Carms |
| 127 | Bloch | 700 | Common, Crossdykes |
| 128 | Bloch | 600 | Evans, Brecon |
| 129 | Bloch | 380 | McPherson, Skye |
| 130 | Bloch | 320 | Williams, Colwyn Bay |
| 131 | Bloch | 450 | Telfer, Cleuchfoot |
| 132 | Bloch | 220 | Evans, Brecon |
| 133 | Bloch | 2500 | Glenochar/Castle Crawford |
| 134 | Bloch | 250 | Drinkall, Chorley |
| 135 | Bloch | 280 | Strang-Steel, Lymiecleuch |
| 136 | Bloch | 480 | Strang-Steel, Lymiecleuch |
| 137 | Bloch | 250 | Potts, Ramshope |
| 138 | Bloch | 220 | Rowlands, Gwynedd |
| 139 | Bloch | 450 | McPherson, Skye |
| 140 | Bloch | 150 | Lord, Littleborough |
| 141 | Castle Crawford | 600 | Menzies, Chanlockfoot |
| 142 | Castle Crawford | 700 | Easton, Langhope |
| 143 | Castle Crawford | 300 | Dixon, Cowburn |
| 144 | Castle Crawford | 400 | Williams, Colwyn Bay |
| 145 | Castle Crawford | 320 | Williams, Colwyn Bay |
| 146 | Castle Crawford | 280 | Dixon, Cowburn |
| 147 | Castle Crawford | 500 | Common, Crossdykes |
| 148 | Castle Crawford | 550 | Easton, Langhope |
| 149 | Castle Crawford | 1400 | Jackson, Cossarshill |
| 150 | Castle Crawford | 480 | Williams, Colwyn Bay |
| 151 | Castle Crawford | 600 | Elliot, Clenries |
| 152 | Castle Crawford | 220 | Weston, Nether Phawhope |
| 153 | Castle Crawford | 900 | Busby, Unthank |
| 154 | Gilmanscleuch | 280 | Davies, Brecon |
| 155 | Gilmanscleuch | 380 | Noble, Lochurd |
| 156 | Gilmanscleuch | 250 | Drinkall, Chorley |
| 157 | Gilmanscleuch | 420 | Stewart, Tushielaw |
| 158 | Gilmanscleuch | 220 | Watson, Binks |
| 159 | Gilmanscleuch | 150 | Clark, Penrith |
| 160 | Gilmanscleuch | 280 | Hogg, Milnholm |
| 161 | Gilmanscleuch | 220 | Davies, Brecon |
| 163 | Gilmanscleuch | 480 | Hyslop, Locherben |
| 164 | Granton | 600 | Moffat, Bodesbeck |
| 165 | Granton | 500 | Stirkfield Farms |
| 166 | Granton | 200 | Evans, Brecon |
| 167 | Granton | 400 | Jackson, Cossarshill |
| 168 | Granton | 250 | Barrie, Eldinhope |
| 169 | Damhead | 320 | McPherson, Skye |
| 170 | Damhead | 320 | McPherson, Skye |
| 171 | Mainside | 900 | Ker, Chatto |
| 172 | Mainside | 280 | Weston, Nether Phawhope |
| 173 | Mainside | 220 | Williams, Colwyn Bay |
| 174 | Mainside | 280 | Drinkall, Chorley |
| 175 | Mainside | 320 | Snaith, Biddleston |
| 176 | Mainside | 450 | Ker, Chatto |
| 177 | Mainside | 380 | Reid, Whitefield |
| 178 | Mainside | 280 | Higgs Farms, Kirkton House |
| 179 | Lymiecleugh | 220 | Evans, Brecon |
| 180 | Lymiecleugh | 220 | Evans, Brecon |
| 182 | Hoghill | 1000 | Paterson, Hopsrig |
| 183 | Hoghill | 300 | Elliot, Hindhope |
| 184 | Hoghill | 520 | Robertson, Becks |
| 185 | Hoghill | 500 | Davidson, Crosslee |
| 186 | Hoghill | 650 | Snaith, Biddleston |
| 187 | Hoghill | 220 | McCracken, Burdonside |
| 188 | Crossdykes | 3000 | Cnewr Estate |
| 189 | Crossdykes | 7000 | Stirkfield Farms |
| 190 | Crossdykes | 11000 | Becks/Goodfellow, Townfoot |
| 191 | Crossdykes | 220 | Davies, Brecon |
| 192 | Crossdykes | 599 | Hume, Sundhope |
| 193 | Crossdykes | 220 | Luescher, Glendinning |
| 194 | Crossdykes | 200 | McCracken, Burdonside |
| 195 | Crossdykes | 600 | Weir, Mainside |
| 196 | Crossdykes | 900 | Anderson, Easter Alemoor |
| 197 | Crossdykes | 280 | Lister, Skipton |
| 198 | Crossdykes | 280 | Easton, Langhope |
| 199 | Crossdykes | 300 | Hughes, Tirpaun, Myddfai |
| 200 | Crossdykes | 250 | Williams, Gorllwyn Fawr, Myddfai |
| 201 | Crossdykes | 220 | Scott, Kirkland |
| 202 | Crossdykes | 350 | Elliot, Hindhope |
| 203 | Crossdykes | 240 | Dalgleish, Mid Murthat |
| 204 | Crossdykes | 180 | Potts, Ramshope |
| 205 | Crossdykes | 180 | Davies, Brecon |
| 206 | Crossdykes | 250 | Evans, Brecon |
| 207 | Crossdykes | 220 | Davies, Brecon |
| 208 | Crossdykes | 250 | Evans, Brecon |
| 209 | Dudlees | 2500 | Douglas, Catslackburn |
| 210 | Dudlees | 850 | Kronospan, Clerkhill |
| 211 | Dudlees | 800 | Kronospan, Clerkhill |
| 212 | Dudlees | 500 | Hughes, Tirpaun, Myddfai |
| 213 | Dudlees | 380 | Williams, Colwyn Bay |
| 214 | Springwell | 180 | Hindmarsh, Rowhope |
| 215 | Springwell | 650 | Jackson, Cossarshill |
| 216 | Springwell | 250 | Evans, Brecon |
| 217 | Springwell | 300 | Frame, High Dyke |
| 218 | Springwell | 150 | Davies, Brecon |
| 219 | Drycleughlea | 800 | Shared between Becks and North Shortcleuch |
| 220 | Drycleughlea | 750 | Davidson, Crosslee |
| 221 | Drycleughlea | 220 | Jackson, Cossarshill |
| 222 | Drycleughlea | 950 | Hutchison, Chapel |
| 223 | Drycleughlea | 900 | Jackson, Cossarshill |
| 224 | Drycleughlea | 220 | Evans, Brecon |
| 225 | Drycleughlea | 180 | Davies, Brecon |
| 226 | Drycleughlea | 220 | Davies, Brecon |
| 227 | Adyar | 180 | McPherson, Skye |
| 228 | Adyar | 480 | Jackson, Cossarshill |
| 229 | Glengeith | 180 | Douglas, Wishaw |
| 230 | Glengeith | 550 | Scott, Kirkland |
| 233 | Glengeith | 150 | Lord, Littleborough |
| 234 | Glenochar | 1050 | Shared between Blackburn and Langholm Farms |
| 235 | Glenochar | 2200 | Langholm Farms, Cooms |
| 236 | Glenochar | 850 | Busby, Unthank |
| 237 | Blackburn | 220 | Luescher, Glendinning |
| 238 | Blackburn | 180 | Watson, Binks |
| 239 | Blackburn | 220 | Evans, Brecon |
| 240 | Blackburn | 200 | Rowlands, Gwynedd |
| 242 | Hislop | 1000 | Common, Crossdykes |
| 243 | Hislop | 500 | Evans, Brecon |
| 244 | Hislop | 500 | Douglas, Thorlieshope |
| 245 | Hislop | 3500 | Douglas, Upper Hindhope |
| 246 | Hislop | 750 | Cavers, Sorbie |
| 247 | Hislop | 620 | Telfer, Cleuchfoot |
| 248 | Hislop | 450 | Watson, Binks |
| 249 | Hislop | 800 | Jones, Bala |
| 250 | Hislop | 650 | Broatch & Stewart, Setthorns |
| 251 | Hislop | 880 | Paterson, Hopsrig |
| 252 | Hislop | 180 | Clark, Penrith |
| 254 | Cnewr Estate | 16000 | Hislop/Skelfhill |
| 255 | Cnewr Estate | 4000 | Douglas, Catslackburn |
| 256 | Cnewr Estate | 1000 | Higgs Farms, c/o Unthank |
| 257 | Cnewr Estate | 450 | Elliott, Mossholm |
| 258 | Cnewr Estate | 500 | Stirkfield Farms |
| 259 | Cnewr Estate | 500 | Linlithgow Farms |
| 260 | Sundhope | 250 | Walton, Dudlees |
| 261 | Sundhope | 400 | Stewart, Tushielaw |
| 262 | Sundhope | 600 | Paterson, Hopsrig |
| 263 | Sundhope | 280 | Anderson, Easter Alemoor |
| 264 | Sundhope | 320 | Evans, Brecon |
| 265 | Sundhope | 500 | Davidson, East Deloraine |
| 266 | Sundhope | 420 | Anderson, East Redfordgreen |
| 267 | Sundhope | 300 | Anderson, Whitslade |
| 268 | Sundhope | 300 | Walton, Dudlees |
| 269 | Skelfhill | 500 | Davies, Dyfed |
| 270 | Skelfhill | 450 | Ballantyne, Linhope |
| 271 | Skelfhill | 400 | Reid, Glendearg |
| 272 | Skelfhill | 650 | Douglas, Saughtree |
| 273 | Skelfhill | 150 | Lord, Littleborough |
| 274 | Skelfhill | 300 | Johnson, Highchesters |
| 275 | Skelfhill | 2600 | Paton, Gateslack |
| 276 | Skelfhill | 250 | Williams, Gorllwyn Fawr, Myddfai |
| 278 | Skelfhill | 480 | Davies, Dyfed |
| 279 | Unthank | 700 | Higgs Farms, Kirkton House |
| 280 | Unthank | 150 | Lord, Littleborough |
| 283 | Stirkfield | 1600 | Weir, Mainside |
| 284 | Stirkfield | 500 | Walton, Dudlees |
| 285 | Stirkfield | 1800 | Menzies, Chanlockfoot |
| 286 | Stirkfield | 350 | Thomson, Ramsaycleuch |
| 287 | Stirkfield | 300 | Irving, Mountbenger |
| 288 | Stirkfield | 250 | Anderson, East Redfordgreen |
| 289 | Stirkfield | 300 | Irving, Mountbenger |
| 290 | Stirkfield | 500 | Easton, Langhope |
| 291 | Stirkfield | 240 | Lord, Littleborough |
| 292 | Stirkfield | 600 | Stewart, Tushielaw |
| 293 | Stirkfield | 180 | Walton, Dudlees |
| 294 | Stirkfield | 180 | Davies, Brecon |
| 295 | Stirkfield | 420 | Telfer, Cleuchfoot |
| 296 | Stirkfield | 400 | Tennant, Gilmanscleuch |
| 297 | Catslackburn | 800 | Walton, Dudlees |
| 298 | Catslackburn | 400 | McPherson, Skye |
| 299 | Catslackburn | 6000 | Common, Crossdykes |
| 300 | Catslackburn | 1600 | Langholm Farms, Cooms |
| 301 | Catslackburn | 3000 | Randall, Drycleuchlea |
| 302 | Catslackburn | 450 | Elliot, Hindhope |
| 303 | Catslackburn | 2000 | Bridgewater & Wood, Potholm |
| 304 | Catslackburn | 300 | McPherson, Skye |
| 305 | Catslackburn | 300 | Noble, Lochurd |
| 306 | Catslackburn | 450 | Jackson, Wardlaw |
| 308 | Catslackburn | 300 | Bland & Barker, Penrith |
| 310 | Catslackburn | 450 | Mitchell, Henderland |
| 311 | Potholm | 2200 | Cnewr Estate |
| 312 | Potholm | 3800 | Paton, Gateslack |
| 313 | Potholm | 1100 | Weir, Mainside |
| 315 | Potholm | 900 | Linlithgow Farms |
| 316 | Potholm | 300 | Thomson, Ramsaycleuch |
| 318 | Tushielaw | 150 | Watson, Binks |
| 323 | Tushielaw | 150 | Lord, Littleborough |
| 325 | Tushielaw | 150 | Davies, Brecon |
| 326 | Tushielaw | 250 | Dalgleish, Mid Murthat |
| 328 | Lochurd | 880 | Douglas, Thorlieshope |
| 329 | Lochurd | 280 | Bland & Barker, Dalefoot |
| 331 | Lochurd | 320 | Douglas, Carlenrig |
| 332 | Lochurd | 400 | Jones, Bala |
---