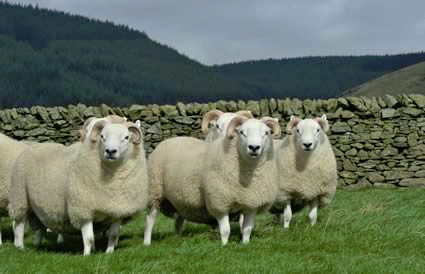 Few breeds have improved more in the past decade in terms of size and scale than the South Country Cheviot, bolstering profit margins for commercial and pedigree hill farmers alike whilst also enabling the breed to compete readily with other white-faced sheep.
With Southie sheep now so much bigger and stretchier, the cocky breeding female, which has always been famed for her character, not only produces bigger, fleshier lambs but also females that are easier kept than their Northie rivals, according to many in the know.
"When we first started selling lambs, most of my South Country Cheviots averaged 34kg, but now, my lightest lambs are 39kg," said Jim Wood, who previous farmed Greyface ewes at Teinside, Hawick, before coming back to the family farm at Pothom, Langholm some 20 years ago.
"The South Country Cheviot ewe has improved dramatically over the past 10-15years from being a wee, dumpy female to being a bigger, longer sheep capable of producing lambs that will easily reach 40kg off grass, making the Southie the ideal hill ewe for many units," said Jim who farms with his wife, Anne, son Chris and his wife Stacy.
"South Country Cheviot sheep are now easier to work with and feed than Northies and they produce the same lambing percentages.
"We run 600 Southie ewes and 200 Northies and there's far more feeding involved in the Northies – they have to be fed concentrates earlier in the year while the Southies can rely more on blocks up until scanning," added Jim, who believes that many of the South Country Cheviot breeders who switched to the Lairg-type Cheviot some 10 years ago, did so because of the lack of Southie ewes and ewe lambs available at that time.
"There is a smaller circle of South Country Cheviot sheep now but the breed will survive because they are better mothers with a better shape and they will always be driven on by dedicated breed enthusiasts."
In all the family farm 1366 acres at Potholm, of which 300 acres are ploughable, with a further 131 acres of cereal/silage ground rented on an annual basis at Canonbie.
Sheep numbers currently stand at 600 South Country Cheviots, most of which are bred pure, and 200 North Countries tupped to a Bluefaced Leicester to breed Cheviot Mule ewe lambs to sell at Longtown. Both breeds produce scanned lambing percentages of 150% for lambing inside in April.
"You save so many more lambs lambing inside and there is not the 'down time'. We're so busy in April calving cows and Chris is often busy doing contract sowing or ploughing work at that time, it pays to lamb inside and to hire a night-time lamber, especially when you save so many more lambs," Jim said.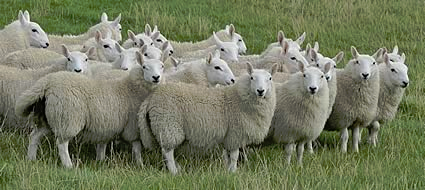 Up until recently, the majority of South Country Cheviot lambs were sold fat off grass with only a select number of tup lambs retained to sell as shearlings privately or retain as stock-tups, with the occasional one sold at Lockerbie.
Now however, with shepherd Fred Little hoping to take the flock to a new level, the family aims to sell a good half dozen shearling rams every year at Lockerbie and eventually breeding females.
In saying that, the family has always been commercially orientated in their choice of stock and already has a foothold of the pedigree world having bred a £5500 shearling ram at Lockerbie last year. Notably, the Potholm pen of five sold the same year cashed in at £2130 per head, for the flock's first main visit to the breed sale as consignors. The pen leader, a son of Blackburn Jim, a £1200 purchase in 2008, was out of a Mainside-bred ewe lamb bought as a regular batch to upsize flock numbers.
They've a similar number for this year's breed sale at Lockerbie on October 1, too, with the consignment containing last month's champion winner from Benty Show, a home-bred shearling ram by Stirkfield Sovereign, with the remainder made up of Sovereign sons and shearlings by Becks Herdman.
In recent years, such have been the improved profit margins of the sheep enterprise compared to the cattle, that the family has been increasing ewe numbers at the expense of the cattle herd.
Ten years ago, the farm was home to 230 predominantly Blue-grey cows and 400 South Country Cheviot ewes, but these figures have since been altered for ease of management with the business now made up of 140 in-wintered Blue-grey and Angus cross Blue-grey cows, 600 South Country Cheviots and 200 North Country Cheviot ewes.
Sheep numbers have been increased by purchasing occasional Southie ewe lambs from Stirkfield and Becks and retaining the best home-bred ewe lambs and draft ewes.
Virtually all lambs with the exception of those kept for breeding or the Cheviot Mule ewe lambs sold for breeding, are sold fat, with the North Country Cheviots selling from September onwards, while the Southies are retained and sold off grass from the end of January onwards.
"There's a huge difference between selling store lambs now for £50 per head compared to selling them in February March at £90-£100, so we've always kept the Southies on and finished them," said Jim, adding that last year his prime lambs averaged out at £90 per head through Longtown/Lockerbie auction mart
But then, the business is fortunate to have enough improved grassland to finish lambs during the winter, while their ewe hoggs can be wintered on silage aftermath and cereal stubble from the better ground down at Canonbie.
The farm also harvests 140 acres of grass for pit silage, 70 acres of second cut silage for baling with a further 150 acres of barley harvested to make feed and bedding for the Charolais, Limousin and Angus cross calves which are sold at 10-12-months of age privately.
With the cows being in-wintered, the 90 spring calving cows are also calved indoors in April, purely for ease of management at that time of year, while the 50 autumn calvers are calved outdoors.
However, in contrast to most suckler cows, Jim's Blue-greys, which forage on the hill for most of the year, are profitable without the Single Farm Payment.
"SAC costings in the spring of this year found that our Blue-grey cows make the business £84 net margin per head per year compared to the average suckler cow in Scotland which records a loss but that's only because we're fortunate enough to be able to run our cows on the hill for most of the year," concluded Jim.