The Hindmarsh family
of Rowhope
Report and Photographs Published by the The Scottish Farmer in 2017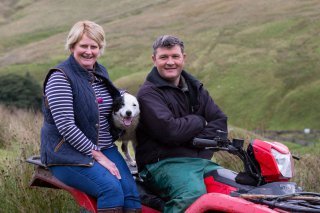 There can be no doubting that life is tough for stock of any kind let alone people striving to make a living in the hills of Northumberland, so making the most of each individual animal is essential and for the Hindmarsh family there's no comparison to the South Country breed. The breed's hardy nature combined with it's ability to convert poor quality forage and strong maternal instinct make it ideal for raising lambs in its birthplace in the Cheviot Hills.
Both Neil and Poppy Hindmarsh are from farming stock but it wasn't until 2005 they were able to secure their own tenancy from the Ministry of Defence and arrived at Rowhope, near Harbottle, which sits at 1,000ft above sea level with hills rising to above the 2,000ft mark. Having moved from Otterburn with daughter Anna and son William in tow, they knew life would be tough raising two children and so they had to ensure they were working with an easily managed breed.
Since then, they've been lucky to be able to add to the 2,500 acres of Rowhope by taking on the 1,800 acres of Uswayford in 2009, and a further 700 acres at Bygate in 2013.
When they moved to Rowhope, the hefted flock of 1,800 ewes were solely of Blackface breeding but, aiming to get more from the land, the duo decided to introduce the South Country Cheviot breed, no mean feat considering Poppy's father, Brian Anderson, was a big name in the Hexham Blackie world. "A neighbour of ours had Southies and we quite liked the look of them so went to Longtown and bought some ewes to go to Rowhope," explained Neil, who fully stocked Uswayford with the South Country Cheviot as there was no stock involved in the tenancy.
"the ewes are easier to winter and they produce a better lamb that's worth an extra £10 per head. Plus, the fleece is worth three times as much as that of a Blackface." Females were brought from the Glendinning and Crosscleugh flocks, and while there are still 300 Blackface females, the South Country Cheviot ram covers everything although only the Uswayford hefts are technically pure.
"It's a very commercial flock and we try to invest in one good stock tup per year and another five commercial sorts with the rest bred at home," said Neil, adding that one favourite was a Hindhope tup bought four years ago that's been a good female breeder and is still on the go as a seven shear. It's the female that proves her worth though as Poppy explained: "The Southie is very easy to keep, running on the hill all winter with very little input and produces a valuable lamb. Plus, they're very kind mothers and the biggest issue we have is ewes pinching other lambs at lambing time." With no fresh bite of grass from October through to May, the ewes must virtually fend for themselves on the hill unless it's a particularly tough winter and they're given a bite of hay or silage. Otherwise, they're outwintered on mineral blocks, as Neil points out ' they were given teeth to eat grass, not chew cake'.
With tups out from the beginning of November through to January, lambing kicks off in the middle of April and carries on through the month of May."We scanned at 1305 this year which is ideal - we prefer a big single lamb instead of a pair of small twins as we've no in-bye fields for lambing so it's mostly done out on the hill, but those expecting twins are brought down to some lower hill ground in the week before they are due for a fresh bite of grass," said Neil.
The resulting lambs are the main income of the business, and the first draft is sold straight of their mothers, usually around the time of Kelso Ram Sales, by the artic-load to Scott Lambie, of Livestock Marketing Borders, and the remainder are sold at Longtown.
"The ewes cost us virtually nothing and we're getting around £50 per lamb, so you can't really argue," said Neil, adding that they receive a mineral bolus three times a year and are treated with Cydectin and a pour-on in October as well as for liver fluke in January. "We did use a drench mineral before but I prefer the bolus as the ewes look better on it. It costs a bit more per ewe but as there's a big mineral deficiency around here at least we know each ewe is getting what see needs."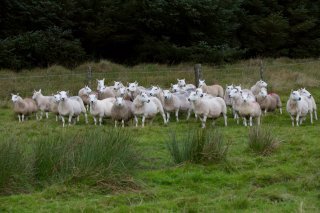 "You get a good price for cull ewes too, and we sell 50 draft ewes for around £50 per head. These ewes have been brought off the hill as five-year-olds, with some given another year on lower hill ground before they're sold as four and five-crop draft ewes."
It's this low input, highest possible output system that works well for Neil and Poppy, and it has to. Not least because of the tough times facing the industry, but because of the tough times facing the industry, but because all the work, including gathering, is done by them selves with very little help from others.
There's no electricity at Rowhope, in the whole valley in fact, and so a generator powers the house at a cost of £7,000 per year. A roaming generator is needed for other tasks such as shearing or providing light as the evenings draw in.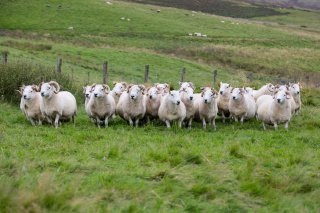 They also need to buy in hay or mineral blocks in November in case the road is closed, as it was for 16 days back in the winter of 2010 when Anna missed school from November 22nd through to the New Year. It was for this reason they bought a tracked Agro-cat which has made a difference, meaning they can get out on the hill in all weather and even rescue groups of walkers who get caught out.
A couple of years move after their initial move to Rowhope, Neil and Poppy bought some Galloway cattle as any bought-in hay went to waste if the winter months were better than expected. They now run on the hill as part of a native stewardship scheme, with the 30 pue Galloways run as a closed herd producing bullocks to sell at 26 months of age at the Kirkcambeck sale at Longtown to average £800, with a top of £900.
These Galloways were recently joined by a fold of 10 Highlanders to produce replacement females for the Longhorn cross Highland suckler herd. These Longhorn crosses are covered by a Limousin bull, with calves sold through Longtown at 10 months, where bullocks average £540 and heifers level at £500.
"As for Brexit, we voted out as we believe we should be able to make our own rules for our own people," pointed out Neil. "The industry will be affected by lower subsidies but I think it will level itself out with lower costs for machinery and medicines. But the fat trade sets the store trade, and while the pound is weak we should continue to do alright.
"We took 800 sheep off the hill for a habitat scheme which finishes in 2020, so we've plenty of scope to expand and put ewes back on if needed, but we do need some sort of announcement as we can't change our system overnight."
That being said, no matter what the future holds it looks like the South Country Cheviot has come home to stay at Rowhope, Uswayford and Bygate. "The Southie leaves a decent return for very little input, which is important as it's just the two of us. We came here with nowt and it was a major commitment so we had to make it work, but we wouldn't have anything else now," Neil concluded.